Omaha Communities Care & Services
At Heritage Communities, we know that your expectations of senior living will be our expectations someday, too. Superior care, accommodating living areas, delicious meals, engaging activities and, most importantly, the freedom to be yourself. We thoughtfully design each of our communities with you in mind then fill them with caregivers and staff members whom you'll want to get to know, to share with and to learn from. Our goal is simple: to help you remain as independent as possible for as long as possible.
A fundamental part of remaining independent is the ability to make choices. Our restaurant-style dining allows you to sit where you prefer and select from a wide variety of delicious favorites and daily specials. Our social calendars are filled with options, too, based on our residents' wants, input and suggestions. From daily activities such as movie showings, games and classes to special outings including dinners at local favorites, drives through the country and visits to area attractions, there is something for everyone. At Heritage Communities, you get to make your own choices because you are an individual—an amazing, unique individual—and in our care, you will always be treated as such.
Our Registered Nurses, Licensed Practical Nurses, Certified Medication Aides and caregivers provide individualized care and can adapt to changing needs in a prompt and seamless manner. What's more, they love to surprise and delight residents whenever possible. Resetting an alarm clock, hanging pictures on the wall or simply asking about the grandkids. Sometimes it's the littlest things that matter most.
FAQ
Q. How do I know when it's time to seek help for a loved one?
A. Visit your loved one frequently, and watch for changes in his/her daily routines. If it appears he/she is unsafe, having difficulty with medications, not eating properly or "just not themselves", it may be time to seek assistance from a medical professional.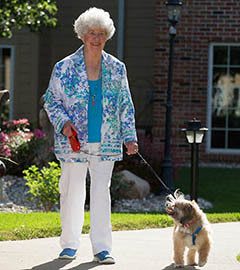 Why we love pets
Pets love their humans unconditionally, which is very helpful in boosting self-esteem and increasing quality of life. Petting a dog or a cat can help you feel calmer and can lower your heart rate. Studies have indicated that people with companion animals tend to recover more quickly and more fully from illness, suffer less stress and visit doctors less often.
All of our communities are pet friendly. So feel free to bring your best friend along.
Safety first
We thoughtfully design our communities with your safety in mind. Here are a few tips to keep your new apartment safe and hazard-free as you decorate:
Use non-slip mats in the bathroom
Keep piles of papers, magazines and books off the floor
Move electrical cords away from walkways
Avoid using throw rugs
Place a lamp within reach of your bed
Use nightlights near walkways after dark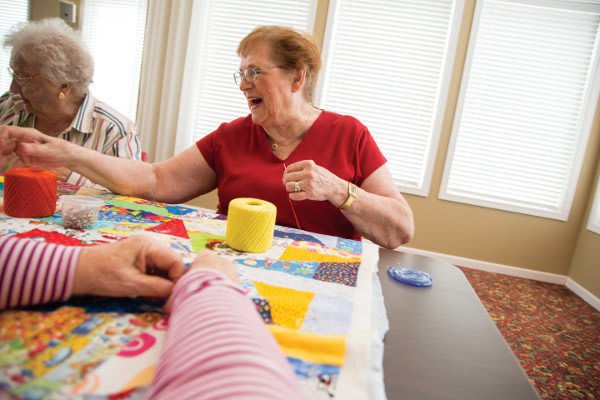 What will you do today?
We offer a variety of daily activities and special outings, from live music and exercise classes to dining out at area restaurants. Our Life Enrichment Directors keep the social calendar fun and engaging, scheduling activities based largely on resident input and suggestions. Have an idea? Just let us know. Family and friends are always welcome to join in the fun, too.
Find a Heritage Community