The Heritage at Legacy
Located near the Shops of Legacy on 168th & Center, The Heritage at Legacy proudly offers a continuum of services. Whether you're looking for independent living, assisted living or memory care services, our retirement community embraces the individuality of each resident. A unique feature of this community is the ability for our residents in independent living to enjoy the comforts of the apartment they've become acquainted with, while still receiving assisted living care. We understand the stress and challenges of having to move, so we've provided the luxury of moving into one apartment, and receiving services as care needs change. At The Heritage at Legacy in Omaha, NE we encourage independence, yet provide the care you need to live the life you want. Our retirement community features restaurant-style dining, social activities, and access to caregivers 24 hours each day. Shopping, restaurants, entertainment and abundant countryside are nearby, when you desire to venture out. Come out and visit, we are excited to meet you! 
Bring your photos,
knick-knacks
and favorite chair.
But most importantly, bring your true self.



It's the Little Things That Matter Most
Chrystal King exemplifies the true core values of The Heritage at Legacy!  On a recent instance, Chrystal displayed care, compassion and respect for a visitor to the community.  A daughter had wanted to run in and get some information on our community and left her mom and a friend out in the car. Chrystal saw them at the door looking confused. When the friend explained that this poor lady needed a restroom but neither knew how to turn off the car, Chrystal said that she would be happy to escort this lady to the restroom.  Chrystal then went a step further for a stranger and proceeded to get her a dish of ice cream. This small gesture was so impressive to the daughter that she called to let us know how much it meant to her! We are building relationships everyday here, within our own little community, and within the entire city.
Thank you, Chrystal, for being so kind and caring all the time and living our core values daily!
What's For Dinner
It's your choice. Our restaurant-style dining features three delicious meals served daily in our spacious dining room. Menus are posted in advance. One thing we guarantee—the coffee's always fresh and so is the conversation.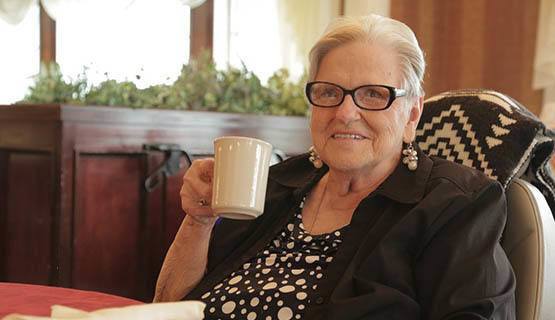 Choose Your Own Adventure
We offer a variety of daily activities and special outings, from movie showings and trivia games to dining out at area restaurants. There's something for everyone.
Careers at Heritage Communities
Interested in a career at Heritage Communities? We may be interested in you, too. Learn more about our culture and values and apply today.