Making the decision of whether or not to move to senior living is difficult enough, but many families feel overwhelmed with all the different options they're presented with. How do the types of senior living differ? How do I know exactly what my loved one needs? Which will offer the lifestyle I'm looking for? Find answers here as this handy checklist makes it easier to determine the best fit.
Checking Your Needs and Wants
While we've learned that moving to a senior living community earlier can have a lot of benefits, determining when the different types of senior living may be needed is the most important. Depending on the type of senior living, your loved one will experience different kinds of activities, living situations, types of care, personalization of care and more.
Before we get to the different types of senior living, first it's important to assess you or your loved one's current needs and wants.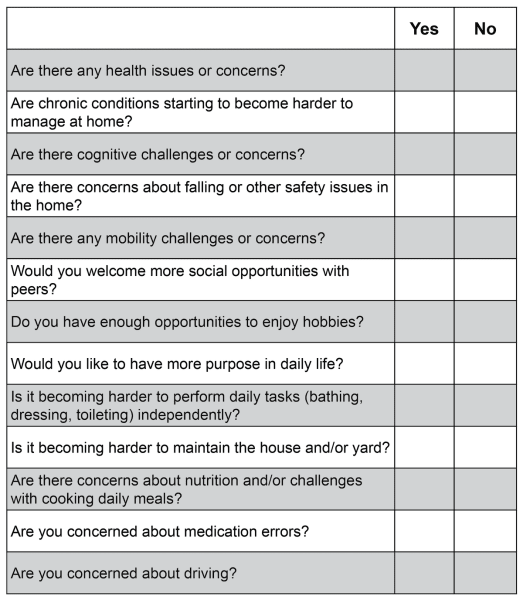 Choosing Between the Types of Senior Living
Now that you've clearly identified the areas in which you or your loved one may need more support and/or would like more opportunities, it's easier to pinpoint which option is the best fit. Here's what each type of senior living offers:
Independent Living
This type of senior living is all about lifestyle, that's why it's ideal for active seniors who are able to live independently and want to spend more time enjoying retirement without the hassles of chores and home upkeep.
Services and amenities may include:
Accommodations such as an apartment, townhome or cottage
Restaurant-style dining
Limited housekeeping and laundry service
Fitness center
Transportation
Variety of social opportunities, activities and clubs
Community spaces like a library, pub and movie theater
Check out our Independent Living
Assisted Living
In assisted living, you'll find many of the same amenities as in independent living. The main difference, however, is that onsite care and support with daily activities are provided. These communities are designed to help residents remain as independent as possible with a personalized plan of wellness and care.
Services and amenities typically include:
Comfortable, spacious apartments
Certified care staff onsite 24/7
Restaurant-style dining
Housekeeping and laundry service
Exercise programs
Transportation
Variety of social opportunities and activities
Memory Care
Designed for those with Alzheimer's disease or dementia exclusively, memory care offers 24-hour, specialized care and support based on each resident's needs and abilities to help them thrive. The environment is cozy yet secure and is easy to navigate for added peace of mind.
Services and amenities typically include:
Comfortable private or semi-private suites
Optimum staff-to-resident ratio
Assistance with activities of daily living
Routine cueing and reminding
Therapy and exercise programs
Housekeeping and laundry service
Engaging, multi-sensory activities
Heritage Communities offers a range of options—from home care to independent and assisted living, memory care, and respite services for older adults—in Nebraska, Iowa, and Arizona. We encourage you to call the Heritage Communities location nearest you to learn more. Download our guide, How to Fund Senior Care and Housing, for information on the options to fund senior living.