Now that you've decided that it's time to move to senior living, you may be wondering what's next. If you've already determined the right type of senior living, you're now ready to compare those communities. We can help here too, with insight on narrowing your options, as well as questions to ask as you tour senior living communities.
Location, Location, Location
One of the biggest drivers in choosing a senior living community is location, so this is typically the easiest place to start when narrowing your options.
Do you or your loved one want to stay in your current neighborhood or at least nearby? Is there another part of the city in which you prefer? Or, are you planning to relocate to a community that's closer to family? Whatever your location preferences, be sure to search for communities within those criteria. There are a lot of options when it comes to senior living communities, in fact, we have several just within the Omaha area to ensure you can be in the part of town you love!
Your Senior Living Wants
Next, think about what you or your loved one want out of senior living. Yes, it seems like a simple question, but it can actually be hard to answer considering all the features senior living communities offer today. It's helpful to identify your must-haves and nice-to-haves before you start touring communities to further narrow your list. Things like specific activities, specialities of care, or certain floor plans might narrow down how to compare senior living communities for you.
This checklist can get you started but keep in mind meals, transportation, housekeeping, home maintenance and activities are already typically included in the monthly fee for most communities.
How to Compare Senior Living Communities
At this point, you've ideally narrowed your list and have two to three senior living communities in which you'd like to tour. Many communities offer the option of touring either virtually or onsite, but regardless of which you choose, it's best to compare them across the same criteria to simplify the process. This worksheet can help.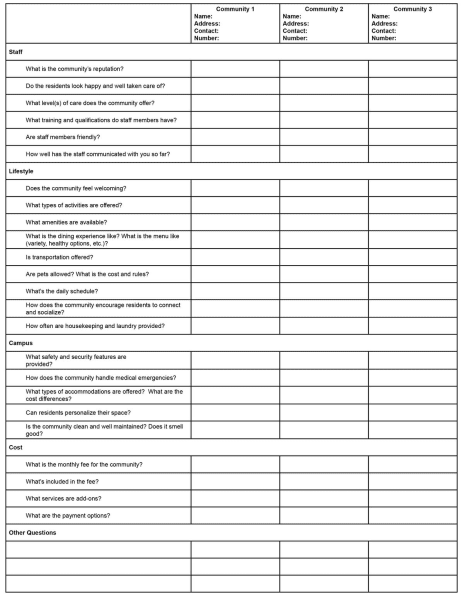 Check out our How to Fund Senior Housing and Care Guide to learn more. Or, contact us today to schedule your private tour!