Retirement is supposed to be a time of less responsibility and more fun, right? While it may be true that you're free from the responsibilities of the workplace now, chances are you still have plenty to take care of at home. While some prefer to putter around the home fixing odds and ends, others look at this as a task they would prefer not to have.
What if there is a way to free yourself from those burdens, and make sure retirement wasn't only about home maintenance and upkeep? Turns out there is and it's known as independent living. Here's how it can help you truly make the most of retirement.
What's Great About Independent Living?
Independent living is a type of senior living that is specifically designed for retirees who can still live independently, but would benefit from a maintenance-free lifestyle that provides more time to be active, social and enjoy your passions. There are studies showing seniors that move to communities report being happier than those living alone. Consider these questions to see if independent living might be a good fit.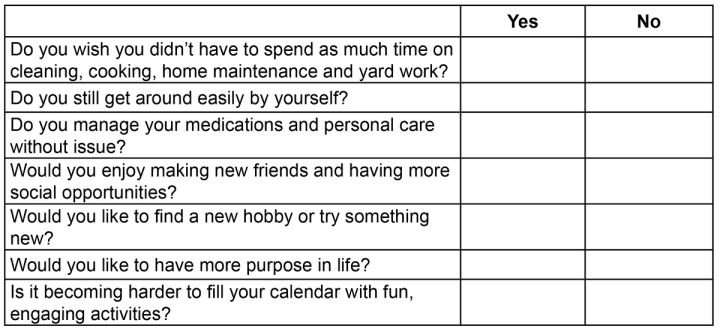 Benefits of Independent Living in Retirement
If you've answered mostly 'yes' to these questions, then the benefits of independent living very well could offer more ways to make the most of retirement. Consider these:
1. Independent Living Means More Freedom
In independent living, home maintenance, weekly housekeeping and linens, as well as restaurant-style dining and transportation are provided for you, removing those responsibilities from your shoulders. Along with this, events, activities and outings are scheduled and planned for, so you can join in the fun without having to put in the work.
2. More Connection
It's so much easier to stay connected with your peers when in independent living because there is a full calendar of activities, clubs and outings from which to choose including religious services on site. Not to mention plenty of common areas in which to socialize and/or host family and friends.
3. Renewed Purpose
At home, it can be hard to find purpose in retirement, but in independent living, there is a range of options to keep you engaged through educational and enrichment programs as well as opportunities to volunteer, continue hobbies and find new pursuits.
4. Convenience
This is a key of independent living. Not only does independent living include a lot of the housekeeping services you'd rather skip, but many of the services you love are located right within the community. Most offer several different restaurants, fitness centers and wellness classes, salons and barbershops, libraries, bars, movie theaters, and more. While you still might keep your favorite hair stylist, there's plenty to offer on campus.
5. Peace of Mind in Independent Living
Being in a senior living community means easy access to health and other wellness services.
As independent living is a type of senior living, often communities have assisted living and/or memory care on the same campus should your health needs evolve over time. This makes for an easier transition since you'll be able to remain in familiar surroundings and maintain continuity in care. Plus, communities are designed with accessibility features as well as emergency response systems for added peace of mind.
Learn More About Independent Living
Independent living has been growing and changing a lot in the past decades, so much so that people now refer to it as resort-style living to describe the inclusive easy living you experience in the community. Heritage Communities offers independent living at many of our communities, each with their own benefits so you're sure to find the right fit for you.
If you're convinced about the benefits of independent living, check out our How to Fund Senior Housing and Care Guide to learn more. Or, contact us today to schedule your virtual tour!